Save for your future, save for your next trip, save for that gadget you want, or just save for the sake of saving! How many times have you heard or thought of these things? Well, in reality many of us don't really know where to start when it comes to savings. Even if we manage to start saving (thanks to New Year resolutions) how do we avoid slipping back into old habits and end up not saving much?
One of our main objectives at Liv. is to be your financial buddy, including showing you how and where you're spending your money AND making your savings more fun, less stressful!
A couple of years ago, we launched our 'Goal Account' feature, which hands down has been one of our most loved features on the app. Wanna know why? We'll tell you!
If you can visualize it, you can realize it
The trickiest part about saving is the 'why or the what'. We're quite unlike the previous generations that saved because saving was good (well it still is). Like everything else, we need a reason, a tangible goal to save for. Whether that is travel, buying a new gadget or a gift for a loved one, or simply saving for a rainy day, saving becomes easier when you give it a purpose. You can pick from one of the many saving categories in the app, give your goal a name (like 'My Trip to the Moon and back!') and add a picture that will constantly warm your heart up as you get closer to your goal! Oh, and you can set up as many goals as you wish.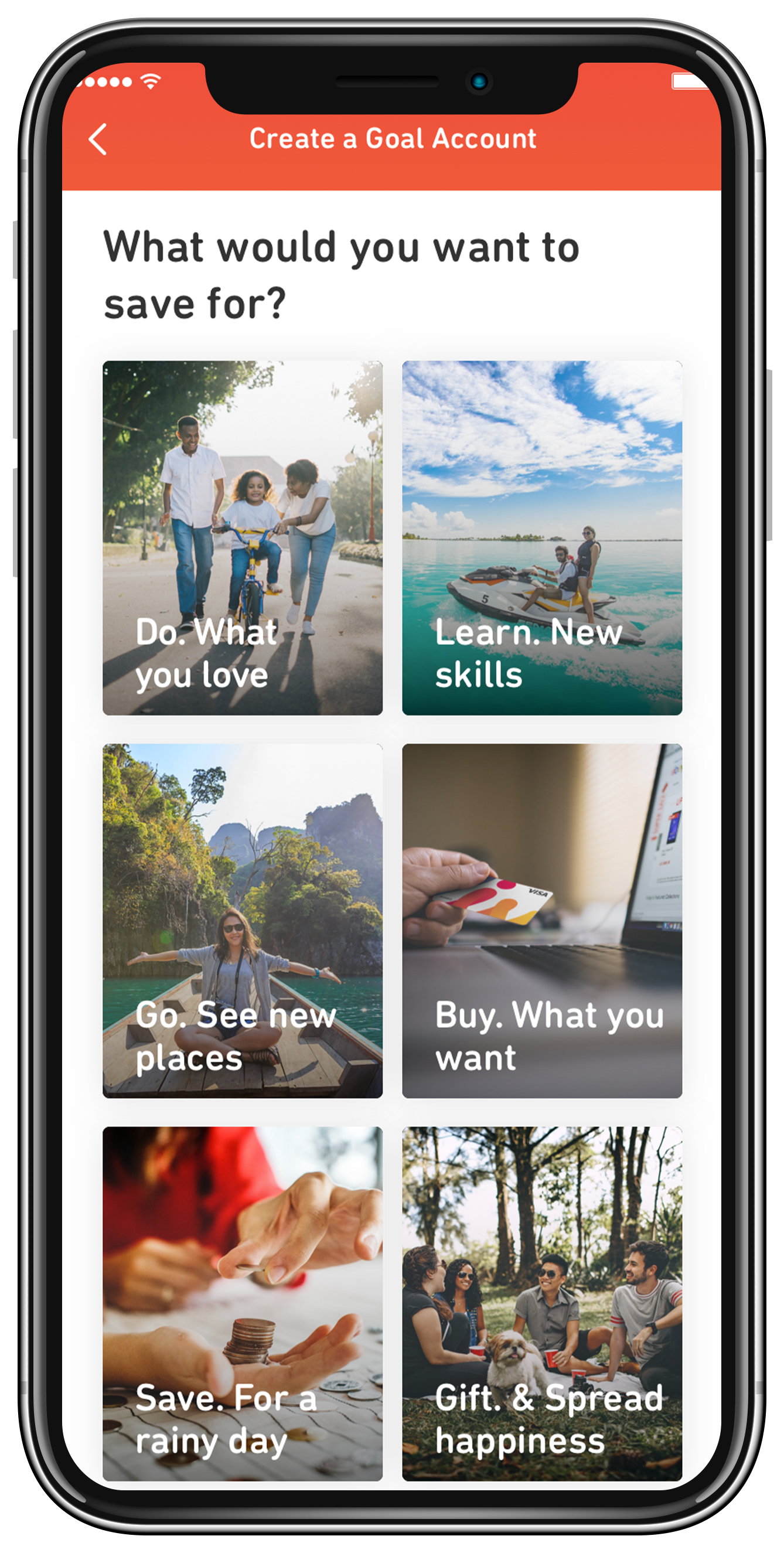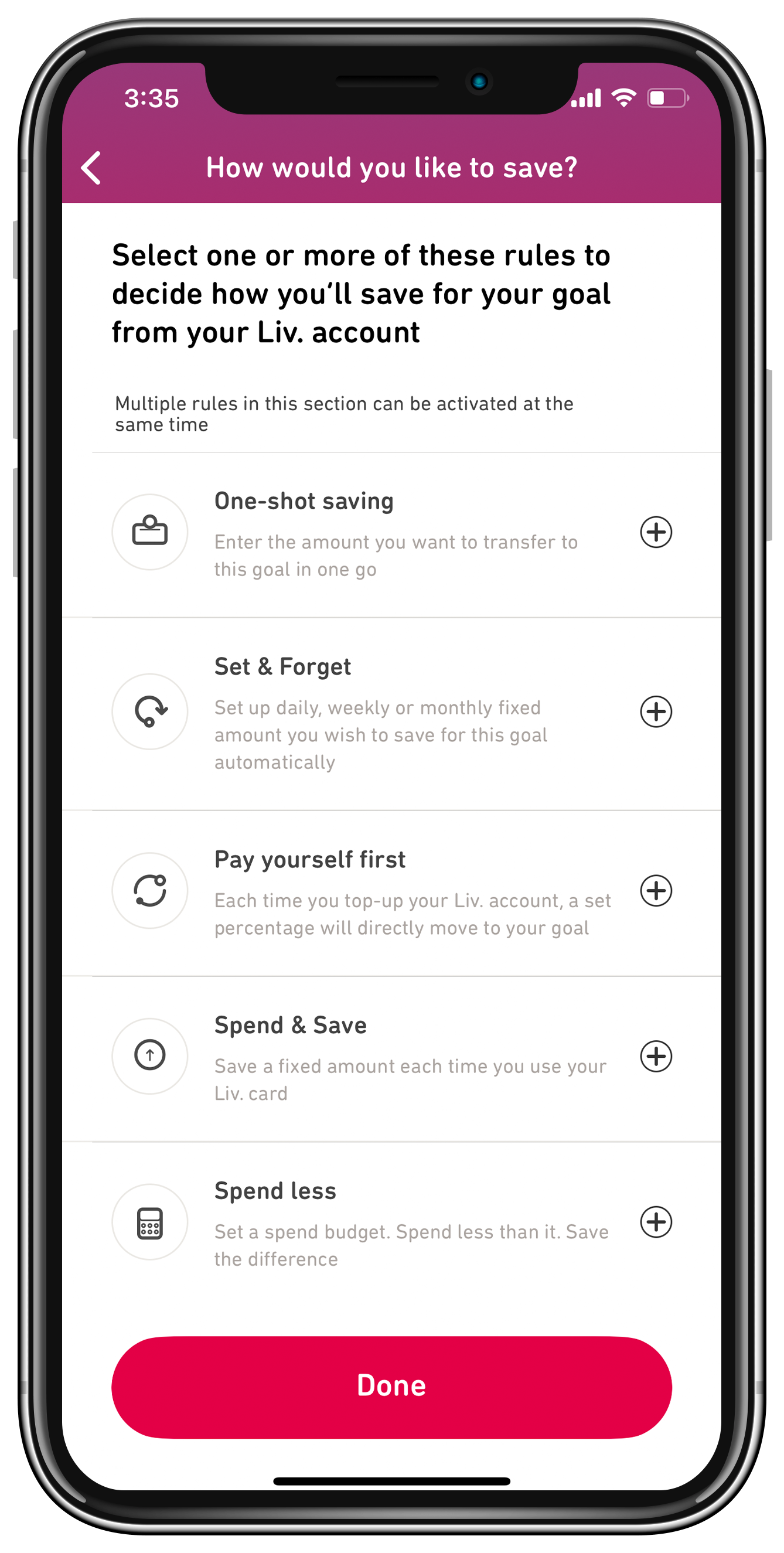 Set it and forget it
We did mention we want to make saving fun and effortless, right? One way to do so is with our many auto-rules. When you setup a Goal Account in the app, you'll get a set of rules to choose from, which will make your goal easier to reach! One of our favorite example is the 'Spend & Save' option – every time you use your Liv. debit card, a fixed amount (which you will choose) will be moved to your Goal Account. Seriously, how awesome? You could even set daily, weekly or monthly amounts that can move from your main Liv. account to a Goal of your choice. Even if you forget to save, the app won't!
Enjoy some extra toppings
Saving should be fun, easy and hassle-free! At least, it's our mission to make it so. How? Well, isn't it always more fun to earn more when saving more? Yupp, we heard you! Save money while earning an attractive 2% interest return on your balances every year. Let us assure you it's probably the best your money can fetch in a bank account.
Keep impulse at bay
The struggle is real. You see something you like, you know you want it and it's paid for before you could stop yourself. Did those brunches cost you your dream vacay in Bali? Your money is safely tucked away in your Goal Account and cant be used to pay for your impulse purchases on the card. But if you really need to use that money, you can simply move it back to your main Liv. account with one tap in the app and there's no penalty for breaking your Goal. It's solid like a fixed deposit but flexible like a checking account.
So no more excuses. Set up your Goals and start saving for whatever it is that matters to you for now and in the future.